I've always been a reader. After first grade I began reading Babysitter Club books, and within the next year, I was reading any chapter book I could get my hands. Preferably chapter books in a series.
In the summer of '92, my parents and I came up with a deal where I earned 50 cents for every book I read. Every penny I earned went to my American Girl doll fund. I had recently read the Molly series from American Girl, and I was dying for my own Molly doll. After reading enough books to pay for half the doll, I remember coming home from school that fall with my mom at the door with a video camera and the Molly doll on the table. One of the best surprises of my life!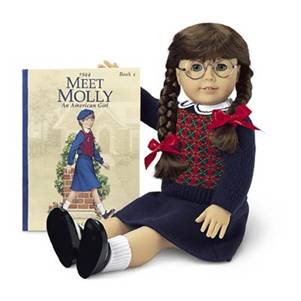 A few years later I got Felicity for Christmas, while my little sister got Kirsten.
I believe it was also at this Christmas that I got this
hot
American Girl sweatshirt-baseball hat combo plus a subscription to magazine. I was the coolest girl in school.
I wish I had pictures of my dolls, but sadly, I've got nothing. However, both of my dolls are sitting in a box in my parents house in pretty good condition. I hope that one day I'll have a daughter of my own to pass them on to.
So my dear readers, well female readers,
did you own an American Girl doll? If so which one? Why did you want that doll - did you read the books?