After finally arriving in Switzerland
after our long journey across the Atlantic
, and a good night's sleep, we were ready to get out and explore Bern! We had a big breakfast in our hotel. It was full of cheeses and breads and lattes...it was pretty much what I had been dreaming of since we started planning this trip!
We stayed at
Hotel Arabelle
which was just outside of the city center. Very nice and clean, and very sparse!
Bern may have been my favorite city we visited. It was not necessarily the most beautiful, but it was the cleanest city (followed closely by Geneva), the most low key, and we had gorgeous weather here. I did not expect to love Switzerland and Bern as much as I did. It was just charming.
The city of Bern sits on a peninsula surrounded by a the Aare River. The first thing I noticed about Bern was this river. It was so gorgeous and clean! It was really this blue in real life, if not more blue.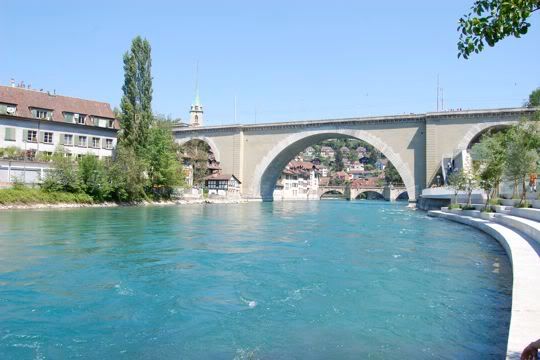 The legend is that Bern was named after a bear that a Duke killed in the city in 1191. Because of this, the city still keeps bears in their city center today. The bear is also on their flag and seal, and all over the city. These people love their bears!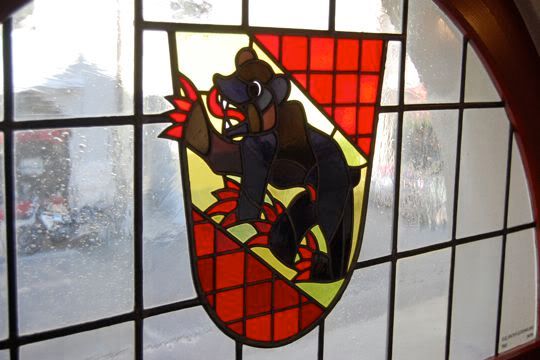 Even the store windows had bears in them....
We took the bus directly to bear pit which is kind of at the far end of the city. I took about a million photos of the bears. They recently had 2 cubs back in the spring and I was rather tempted to steal one of the cubs. It would have made a good brother for Layla. At least I thought so...they were precious.
Seriously...I wanted to cuddle with those little cubs. I am sure it would have ended well. Here's J and I in front of the bear pit with the city behind us...
From here we walked up to the rose garden. It was so beautiful here. Lots of gorgeous flowers, very peaceful, there were people on blankets eating picnics all over the garden...it was just
so
nice.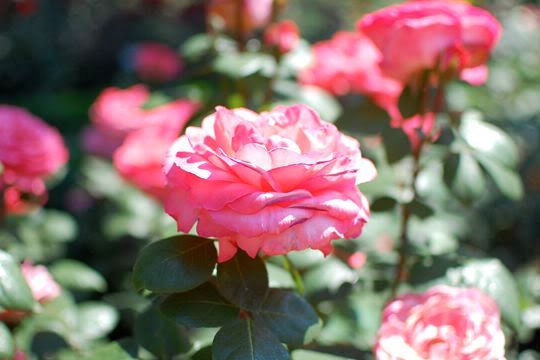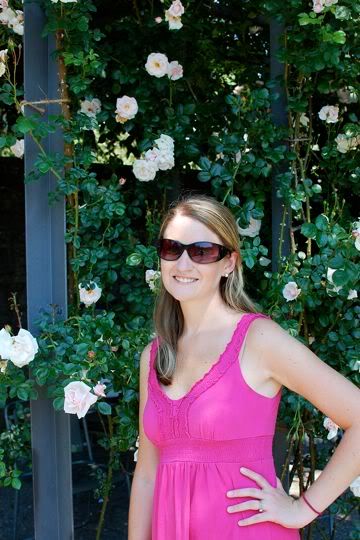 And I love this one with the whole city behind us. The garden was up on a hill, so we had a fabulous view of the city behind us...
The thing we loved most about the garden was the Indian music video being shot in a fountain. Yes. You read that right. A group of Indian kids were blasting a song from speakers, had a director yelling at them, several cameras set up, groupies running around grabbing them drinks, and they were dancing in the fountain.
We stopped and watched for almost twenty minutes. It was just too funny and odd not to stare at.
We headed back down the hill into the city and stopped at a local brewery for some beers and pretzels. Both were delicious. Bern is in German speaking Switzerland and you could definitely see the German influences in this ciy.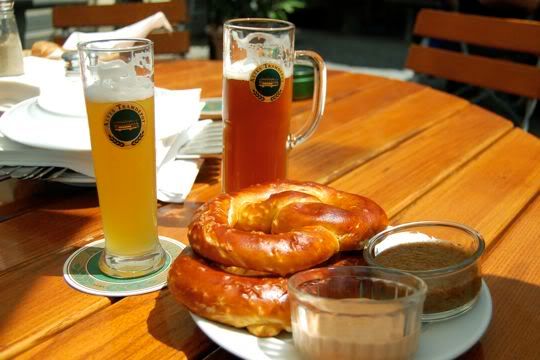 After our mini lunch break, we spent the afternoon walking and exploring the city with the help of our guide book. We were in Bern on a Sunday which meant all the stores were closed. This was kind of a bummer since so many of the shops looked so cute. Oh well. We had plenty to see!
A garden...J said this will be his garden one day...
The main bus station...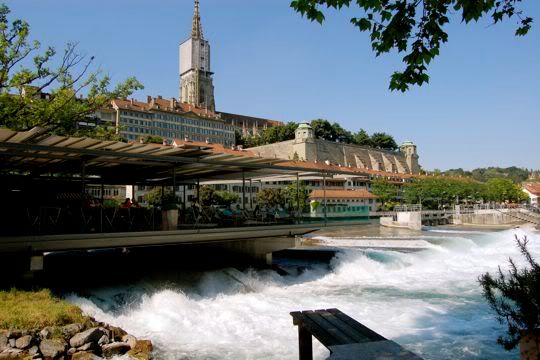 The country's capitol building plus cute kids playing in fountains...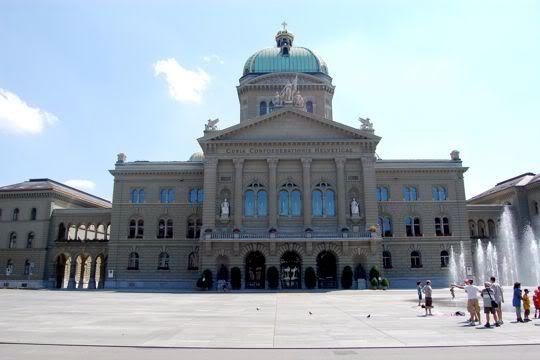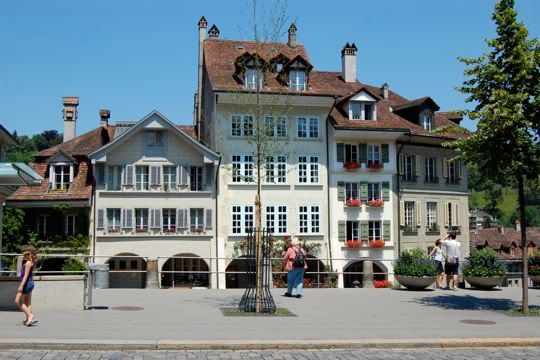 J inside of Albert Einstein's house...
And then we saw two guys having a little pool party in the center of the city. It looks like they were pumping water out of the fountain into their pool while drinking beers. Just living the life!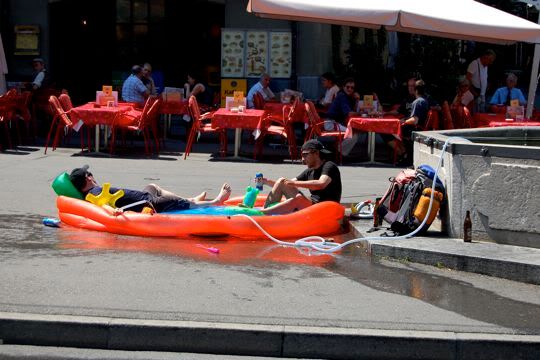 This tour group from Germany made us chuckle...
And we
obviously
saw some more bears...they were really everywhere!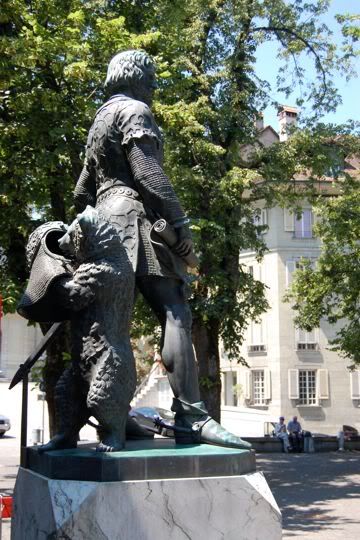 And then after a break, we walked down into what I think was a small suburb of the city. We noticed that lots of people were passing us in swimsuits and carrying towels. We kept walking and found what J decided to call "Bern Beach Party 0-10." There were
easily
1,000 people laying out on towels, one small pool in the middle of all of them, and music was blaring. This photo doesn't do justice to the number of people who were here.
Prior to going to dinner we decided to stop again by the river to put our feet in. This may have been our best idea all day. After walking all over the city for ten hours, this felt great! It also helped that the water was so cold and clean. These pictures do a great job showing how beautiful this river was.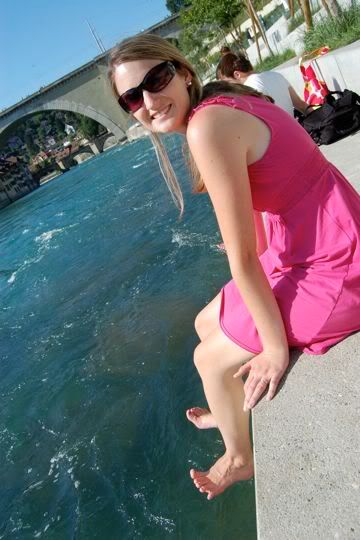 We finished the day with dinner at a German restaurant. I had a veal bratwurst with potatoes and J got a prok chop covered with cheese and tomatoes and it was served with french fries. Odd, but very good!
All in all, I loved Bern. So charming, beautiful weather, friendly people...I was so glad we scheduled it into our trip.
Up Next...Florence, Italy!