In case you're just joining me, here are my first two recaps...
We left Bern on Monday, June 28. The train ride to Florence was our longest one of the whole trip. We had a quick stop in Milan where we had to switch trains. It was hopping here!
We arrived in Florence and had a loooong walk from the train station to our B&B. We brought backpacks instead of suitcases to save on the cost of taxis. While we did save tons of money on taxis, it was quite exhausting at some points. I still have mixed feelings on bringing a pack.
The B&B,
Abatjour Bed and Breakfast
, was quaint and and cute. I found it on trip advisor and saw that it had high reviews. It was outside of the city center which meant we had to take the bus to get into the city, but this turned out to be a simple process. The B&B owner was very helpful and gave us some great suggestions for restaurants.
Here's our room and bathroom...
We had one full day here and 2 full half days. Plenty of time to see the major sights of the city. Our first night we walked around the city and took in a few of the sights. We got a good view of The Duomo.
Did a little more sight seeing before dinner...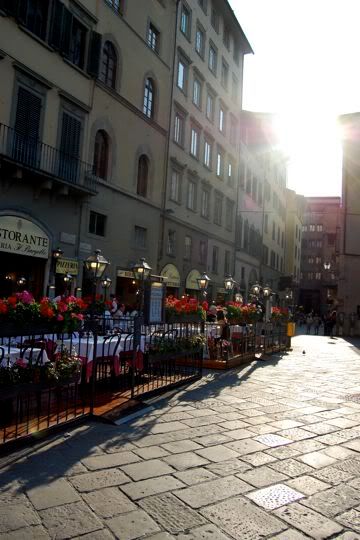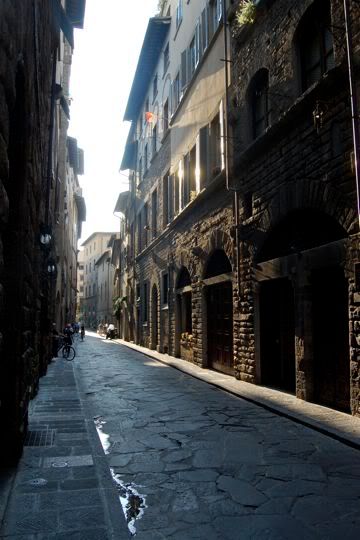 We had dinner at
Il Santo Bevitore
(thanks to
Newlywed Next Door
for this recommendation!). We really enjoyed this little restaurant! We started with some wine and cheese.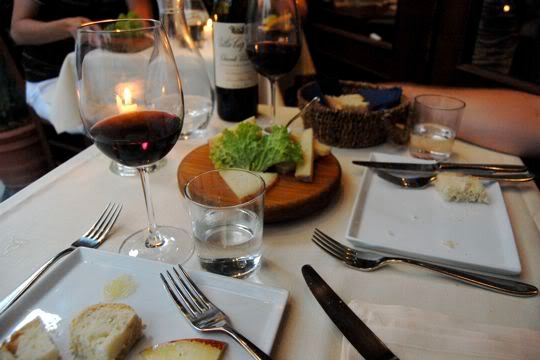 J had a pasta dish with squid...
And I got a beef dish. The waitress described it to me beforehand and it sounded like it would be right up my alley. She described it as having a pepper sauce and cabbage. She failed to mention that it would be uncooked...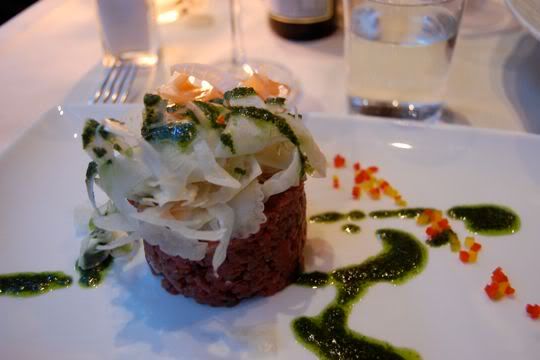 It was essentially an uncooked beef patty. Was it good? YES! Could my mind get past the fact that I was eating raw beef? NO! I enjoyed it and ended up eating most of it, but it taught me to be more careful with what I order.
All in all, very good dinner. A little bit different with the uncooked beef and all, but still enjoyable!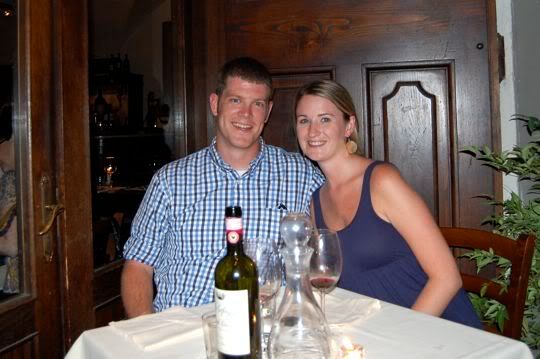 On our second day in Florence, we went straight to The Duomo. We knew it would get hotter as the day went on so we decided that climbing to the top would be a good thing to do early in the day. We toured the inside first. It was pretty unbelievable!
We hiked the 460+ steps to the top. It wasn't all that bad, just claustrophobic more than anything! Here's J at the first level where you stop to walk around at the base of the dome...heights make him a little woozy so he was only feeling okay through out this whole process.
We got to the top and had a gorgeous view of the city! It was definitely worth the climb and the 8 euros you pay to go up. It was a great way to see the city.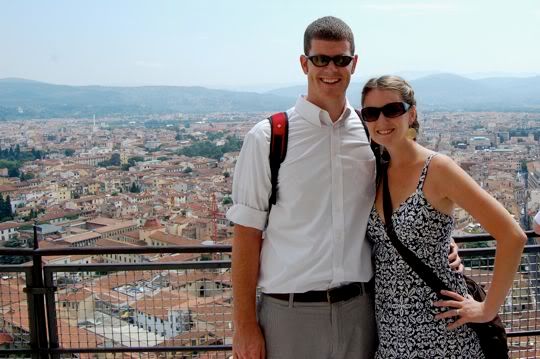 And then there was the climb back down. You can get a good idea of the tight space we were in from this picture.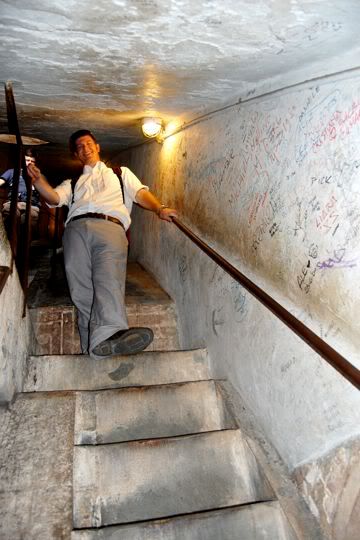 Once we reached the bottom we had worked up quite the appetite so we headed to find lunch. We did a quick stop at a panini shop and were delighted with our purchases. J was also amused that a beer cost less than my Coke.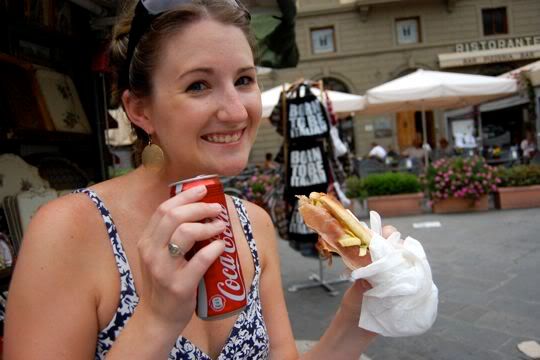 And of course lunch was followed by gellato!
We decided to not do the Ufizzi. I would have liked to have seen it, but we also knew it would have taken up a lot of time. We decided instead to just walk some more and sight see through out the city and do the Boboli Gardens. On the way to the gardens we walked through a street fair. I'm still wishing I bought myself a leather purse...
Here's the Ponte Vecchio + me by the river!
We made it to the Boboli Gardens by early afternoon. By this point in the day it was HOT, so we spent a lot of time in the gardens sitting on benches and just enjoying the surroundings.
We had a wonderful view of the city from here. I
tweeted
from here and several of you commented on the picture. It really was gorgeous.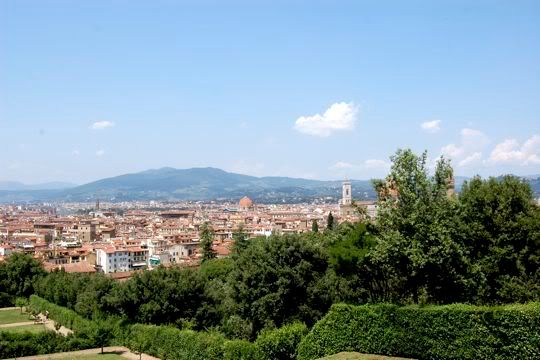 And it's here that I'll note how ridiculous my husband is. We got these bottles of water from our B&B in the morning before leaving to explore for the day. Because there was a baby on the bottle J constantly reminded me all that day that it was a bottle of baby tears. This led to me not wanting to drink from these bottles!
And then one last picture from the garden, J and a stone dog. Clearly made me think of Layla which clearly made me tear up. Vacation is great, but I miss that dog so much when we're away from her.
That evening was interesting, to say the least! We had dinner at a little pizzeria by our B&B that the owner had recommened. Great food, but we couldn't even get a seat til 10:30. It was here that we learned how late people like to eat in Europe. Even eating at 8pm in places made us feel early. Don't know how these people stay out so late on week nights and get up for work in the morning.
On our second day in Florence we headed to the San Lorenzo Market. There was so much to see and enjoy here. It made me want to live in Florence and do all my grocery shopping here!
We had lunch at a little hole in the wall place sort of near the market. I had gnocchi for the first time with a gorgonzola and walnut sauce. It was heavenly! J got a seafood risotto.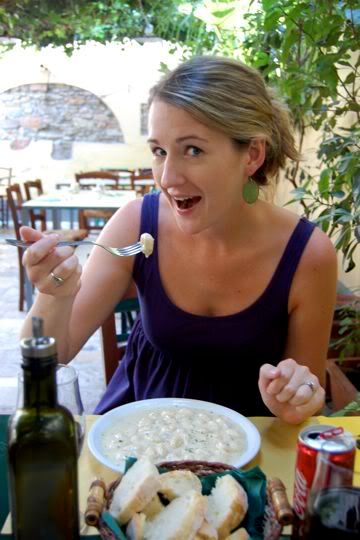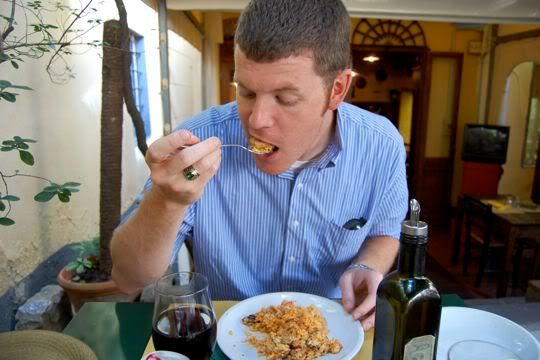 We did a little more sight seeing for the afternoon before heading back to the train station where we caught our train to Genoa, Italy. All in all, Florence was lovely and beautiful, but hot, crowded, and rather dirty. I loved the history of the city, and the sights were amazing. However, I'm also glad we only did two nights here. I think it gave us plenty of time to see the big sites that we were interested in.