Another recap post! Are you sick of these yet? I have this one and two more left then it's back to normal. I love having the details of our vacation documented on here, but I'm wondering if you my poor readers are sick of me telling you how hot it was and how great the food was...only a few more recaps!
Today, let's talk about NICE!

I last wrote about our trip to
Cinque Terre
. The day after Cinque Terre we boarded the trains early for Nice, France. I found a little studio apartment in Nice off of
VRBO.com
.
The listing for the apartment said it was located near the city center, on a hill (HA!) , and only 5 minutes from the nearest bus stop. What the owner failed to mention was that the 5 minute walk to the bus stop was all down hill. STEEP down hill. In fact, a mini mountain would be a better description. The owner also failed to mention that buses stop running in Nice at 8pm. This meant if we went out to dinner in the city, we had to walk the 45 minutes back up the steep hill to our apartment. Not ideal for a vacation. In fact, the first day there, I may have broke down in tears. It was so darn hot (no AC) and the thought of having to walk up and down that big hill every time we wanted to go somewhere just about killed me.
I'm sure you're thinking,
Oh...poor Rachel, stuck in a beautiful apartment with a pool, right down the street from Elton John, in the French Riviera
. BUT PEOPLE, it was hot and that hill was
big
. This was supposed to be a vacation and walking up a mini mountain each day just to get to our place was not my idea of fun.
This sort of gives you an idea of where we stayed. The mini mountain looked so much higher in real life...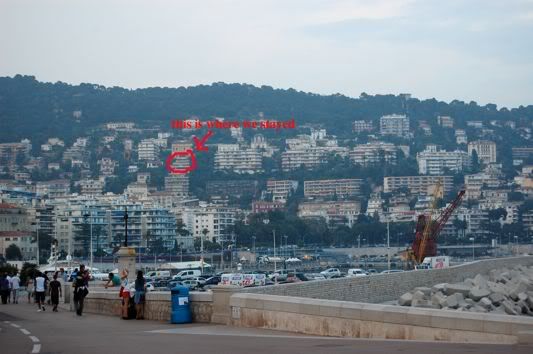 But as I'm sure you've already guessed, I put on my big girl pants and got over it after a good cry. Was I mad at the VRBO listing for being a little deceptive? OH YES. But did I still enjoy Nice? YES. So let me tell you about the good!
Things we enjoyed in Nice:
The port and the beautiful boats here.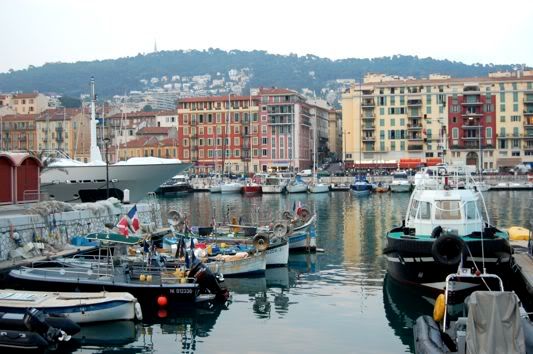 Eating at La Zucca Magica (The Magic Pumpkin), this was an Italian Vegetarian Restaurant.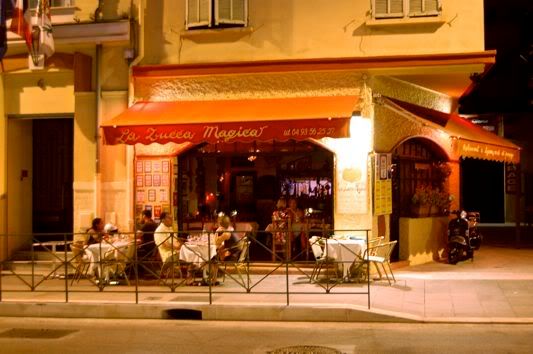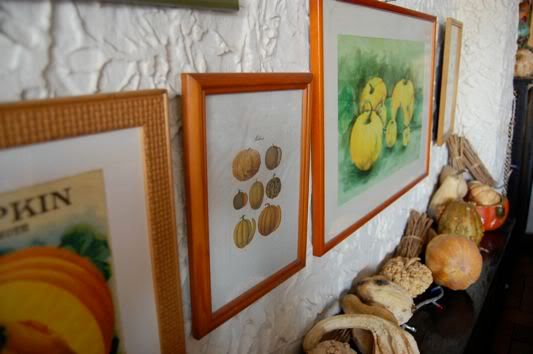 The beach! Believe it or not, we actually didn't spend time ON the beach, but it was fun enjoying the boardwalk and the people. I will say, I had to be careful in choosing what picture of the beach to post since there were many topless women. Don't want to post that on the blog!
Ma Nolan's...the Irish Pub. We went here everyday for a drink. Even better that they served a cider beer with ice in it!
And we also liked this little Irish band who played music there one afternoon...
The wine, bread, and cheese we bought at the local grocery store and devoured in our apartment on our balcony every night
And on that note, I loved our balcony where we drank the above wine and ate the bread and cheese...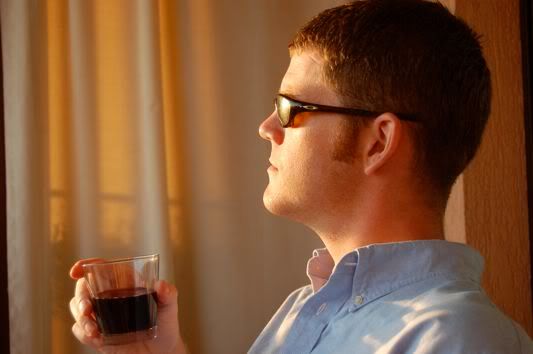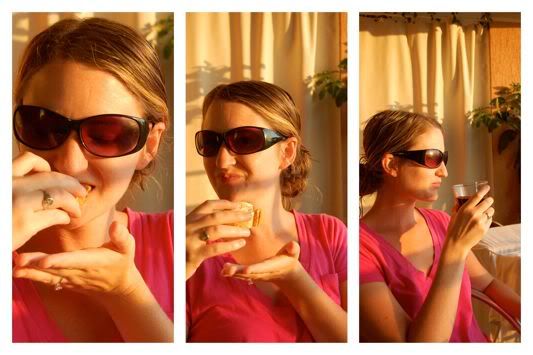 Our pool...the best way to cool down after walking up the hill in the sun.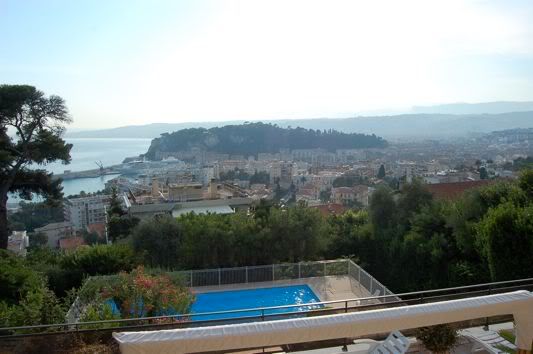 And the views. We loved sitting up here with our wine as the sun set...
Eating
Nicoise Salad
and the sandwich version,
Pan Bagnat
!
And then of course, we just loved being together and seeing the sites!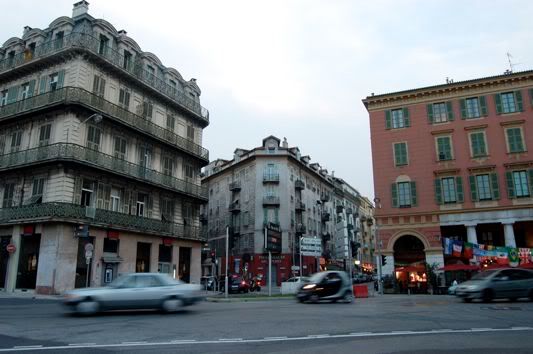 While in Nice, we did what was supposed to be a "medium level of fitness" bike tour...this was an event that has earned its own post, as we almost died several times on this tour. There's just so much to share!