Taking a quick break from vacation recaps to do a little report on life at the moment. We're going to do it number style today.
1. I fiiiiiinally picked up
The Help
from my local library after being on the waiting list since November. I've heard so many great things from so many whose opinions I trust. I'm just cheap and never buy books when I know I can get them for free from the library!
2. I posted on
Menu Monday
this past week that I was making
PW's Tequilla Lime Chicken
this week. I made it last night and O-M-G, go make it now! This is a new favorite!
3. Since Monday, I've been trying to put my vacation photos on Facebook, but I have had no such luck. It freezes every time unless I do one photo at a time, which is only a huge pain. Anyone else have this problem lately? I'd love to know if it's just me.
4. Did I mention yet that our luggage arrived? It arrived about 2 days after we did. Nothing was missing, but our bags looked like they had really been thrown around. Filthy and smelling of smoke. US Air is still on my hate list.
5. This one's for my teacher friends...on Tuesday I went to the Teacher Production Center in the city I work in. I had heard about this place but never been. I am now kicking myself for not going sooner! It's a free service to teachers who teach in my city. You walk in and see wall to wall of colored paper (cardstock, printer, and construction), die cuts galore, and then lots of computers where you can design or use pre-made posters and print them in color on either regular sized paper OR you can make 2 poster size posters on a large color plotter every time you visit. I was like a kid in a candy store! I can't believe I haven't taken advantage of this FREE service prior to this week!
6. The mint in the garden is going nuts. This only calls for one thing...mojitos! Too bad we don't have mojito glasses. They're on my list!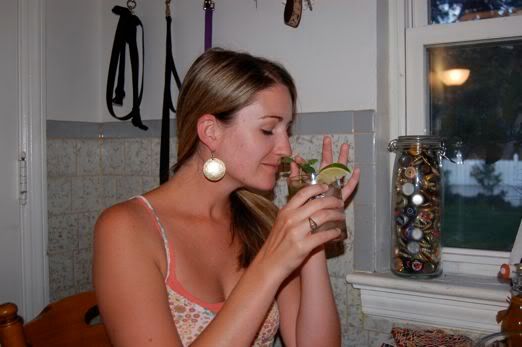 7. On Sunday, my good friend Tyler (
remember her?
) came by for a quick visit. She was in the area for a bachelorette party and made a pit stop here before heading home. She helped us eat
bacon mac
!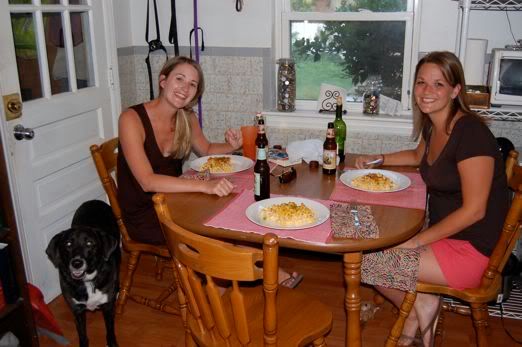 And that's all I got! Lots going on this weekend. Can't wait to see some old friends who will be in town!