Back in June, I posted on here about
my summer goals
. I wanted to put my time off from school to good use.
Early in the summer I began working on my goal to teach myself more about my camera. I read
this book
and it has changed my life as a photographer (thanks again
Becca
for the recommendation!).
Another of my goals was to create a picture wall in our home. I love pictures and displaying them in our home, but I am the worst at remembering to have them printed out. Not anymore! I got my act together and made it happen!
Here is the empty wall I was working with. Pretty bare and boring, huh?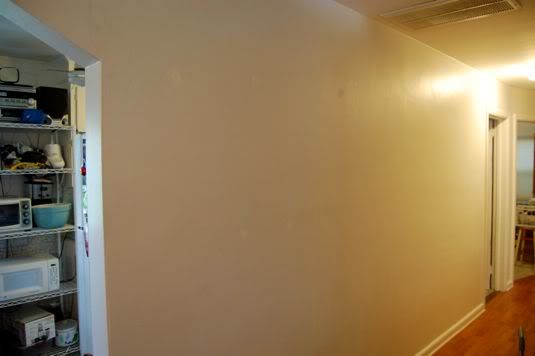 I started by buying frames. I spent about a week or two perusing through the picture frame aisles at Goodwill and other local thrift shops. I wanted to do this project for cheap and I told J I could do it for under $75. I ended up coming way under budget, but I'll get to that in a minute. At Goodwill I spent around $24 on 10 frames, and then I spent about $3 on 3 frames at another shop in town. What a steal!
One thing that was a bit of a pain about purchasing frames this way was taking old pictures out of the frames. Some of the frames I bought were very nice, customized, matted frames that had been sealed in the back. This meant I had to cut into the seal and remove the original picture which was kind of a pain and more work than I expected it to be. BUT, if you want to save money, it's worth it.
Once I had all my frames, I spread them out on the floor in our living room to come up with my "design." I wanted to see how they all fit together and figure out what size pictures I needed and how many vertical and horizontal photos I needed.
Once I had this laid out in a way I liked, I made a map and labeled each frame with a number, then put a post it on the frame with its number. This made it easy to put them all away in a closet while I ordered the photos instead of leaving them spread out in position on my floor.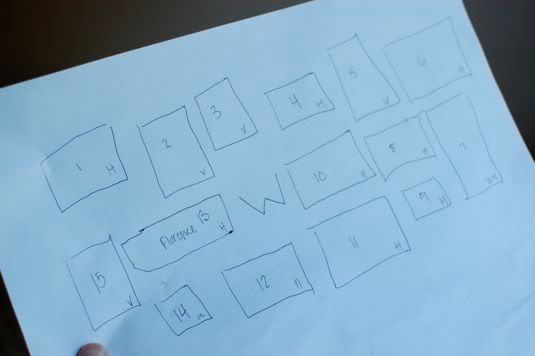 There were a few frames whose original color wasn't one that appealed to me. This called for some spray paint! I bought three cans (dark brown, black, and a metallic gold) for under $10 at Wal Mart. I ended up using just the brown, but I plan to hold onto the others in case we add to the wall (which we plan to do).
Off to the yard I went to paint. We had this drop cloth leftover from when we painted rooms in our house back in November.
I ordered my photos from Shutterfly, and when they arrived, I carefully put them in frames. I did break the glass in one frame during this process. Kind of a bummer, but it happens. Especially when you're tearing apart the backing on a customized frame.
This brings us to this morning where we finally hung them! This is the one part J helped me with. He's the picture hanger in this house! Here are our tools.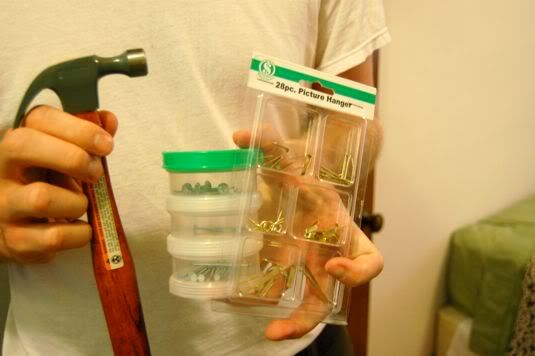 You'll notice we had to use some picture hangers. This was another thing that comes with buying thrift store frames. Many of our frames didn't have a hanger on the back. This can easily be solved by buying some hangers. There were a few kinds in our kit, but we just used these small eyelet screws in the back of the frames that were missing hangers.
Here is my professional picture hanger, hard at work.
And then...the finished product!
I love the look I got by using different frames. I debated about paying for frames that all matched, but I quickly realized I could do it for cheaper by finding a mix of frames and it kind of gives it some more character doing it this way.
The "W" on the wall came from Etsy. I asked for it for Christmas a few years ago and my MIL got it for me.
Here's the shop it came from.