Happy Halloween! Not dressing up, but we are ready with pumpkins and candy! We've spent the day carving pumpkins and roasting pumpkin seeds. In my eyes, it's the perfect way to spend a fall afternoon!
J carved an Andriod pumpkin...he is such a geek, which is half the reason I love him.


Pumpkin Seeds Pre-Roasting!
And my photo session with Layla and the freshly carved pumpkins...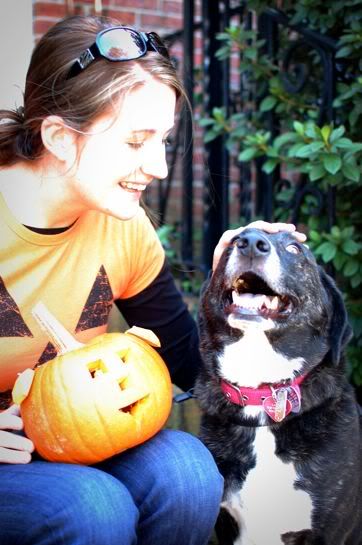 The final products...an Android, a classic Jack-o-Lattern, and a puppy pumpkin!
Now we're just munching on my roasted pumpkin seeds and waiting for the trick or treaters. This is the first time we have spent Halloween in our house and not in an apartment. I am really hoping we get some cute kids in costumes. If not, I'll have a lot of candy to eat!
Oh, and just for fun, let's share
the link to last year's Halloween post for a trip down Halloween Memory Road...