I took a bit of a blogging break last week. It was not intentional, but just what I needed. The pile of papers I've had to grade has gotten out of control and time with my husband and the pup seemed more valuable than blogging. Sometimes it's nice to step away for a day or two and not worry about posting and page hits. My grading pile has greatly decreased and I've had a fun few days with my husband and the old Layla.
Saturday we took Layla to the PETA dog park (our city houses PETA's national headquarters...I'm not a PETA supporter, but their dog park is fantastic!). I left the camera in the car while we watched Layla play, but I did get this sweet picture of her in the car. It cracks me up the way she rides in the car once she figures out where she's going. She is going nuts once she realizes she gets to go play.
After the dog park, we walked down the street to a church on our block that is selling pumpkins. Much more convenient then going to a pumpkin patch, but better than a grocery store pumpkin. Layla of course is a tiny bit afraid of the pumpkins, but she eventually decided that they were safe and helped in choosing some family pumpkins.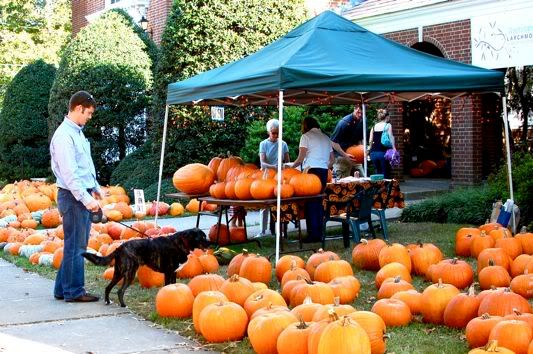 Is that enough pumpkin photos for one post? Just one more! Our front porch is now well decorated for fall...now we just need to pick an afternoon to carve and roast pumpkin seeds.
Hope your weekend was full of fall fun like ours was!