First of all...my apologies for the wacky colors in these pictures. It is so hard to photograph food in the winter when we have no natural light coming in at dinner time. I promise that despite the ugly pictures, the food was all still very tasty.
Secondly...on to the food!
My meals:
These were very yummy. I love steak, so this was naturally great in my book. Instead of serving with Romaine Lettuce I put arugula in ours. We had plenty of tzatziki sauce leftover afterward, but that's okay. It just meant I got to dip all sorts of veggies and pita chips in for extra snacks!
Deep South Shrimp
and Sausage
served over
Spicy Cheese Grits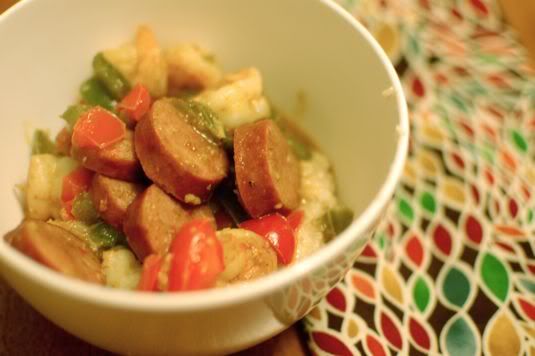 Holy moly, this was GOOD. Like, I want to make it again this week kind of good. I can't give this enough stars to show my love for it. YUMMMM! I used a kielbasa sausage in it, and fresh peppers instead of frozen. Definitely give this one a try!
J's Meals:
Sweet Pea Risotto
with
Rosemary Bread
Picture is from Real Simple since I forgot to snap one...oops! We ate this with friends while we were out of town this weekend. J made it for the group, and I think everyone was a big fan.
Baked Kidney Beans and Chorizo
served over Brown Rice
J has made this for me about 50 times in our 2 and half year marriage. I never tire of it!