I am going to be doing things a little bit differently on Menu Monday over here. In the past, I've always posted my recipes before I had made them. We'd plan our meals, I'd post them, then I'd cook for the week. I've decided to switch the order around...from now on I think I'll be planning, cooking all week, and then posting on here. This way I can post pictures and any modifications made to the recipes.
Now that we've got that away, let's talk about the meals...here's what we ate last week:
My Meals:
I got the
Cooking Light Cookbook,

Fresh Food Fast
, and so far it has yet to disappoint! It's been worth every penny.
This week we tried...
Thoughts on Taco Beans and Rice: very tasty if you don't make the mistake I did and use Trader Joe's taco seasoning. That stuff is SPICY and honestly ruined this meal for us. I'll be trying it again in a few months, but next time making my own taco seasoning.
One modification I made..added cilantro and some lime jucie
We also tried
Seared Beef Tenderloin Steaks with Dark Beer Reduction and Blue Cheese
with baked sweet potatoes on the side.
These were extra yummy steaks. Recipe called for beef tenderloin steaks, I bought petite sirloin. Sometimes beef selections confuse me...big time! This substitute ended up working perfectly.
And J's Meals:
While I was digging Cooking Light all week, my dear husband was into some Pioneer Woman...makes for a balanced diet...kind of?
Only thing I'd change about this...I'd add sliced avocado on top
Monday Night Stir Fry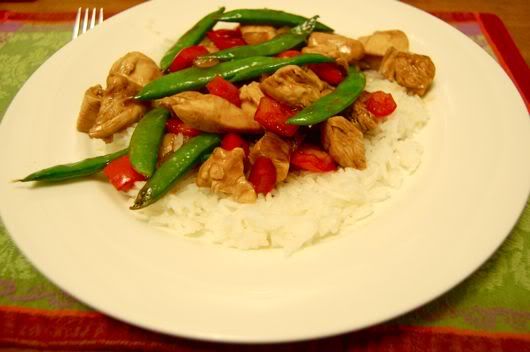 Spicy Lemon Garlic Shrimp
served over Trader Joe's Basil Linguine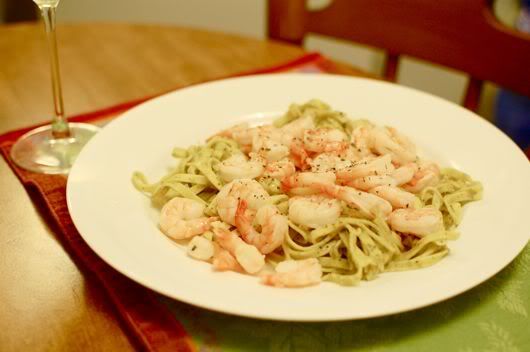 This was delicious. Only problem was we forgot crusty bread to go with it. It's a must to soak up all the garlicy butter goodness on your plate.


And the promised recipe from above...this is a great side for any Mexican meal!
Green Chile Frittata
Ingredients:
7 whole Egg
½ cups 1% Milk
1 Tablespoon White Flour
1-½ cup Monterey Jack or Cheddar Cheese
2 cans Green Chiles
Directions:
1. Preheat oven to 350 degrees
2. Beat eggs in a bowl
3. Mix in other ingredients
4. Pour into a circular casserole dish (square pan would work too)
5. Bake in oven for 30 minutes or until done in the center