Way back in the day (2002-2007) when I was a student in college and grad school, I used to take pride in something really dorky. I used to find pride in my AOL Instant Messenger.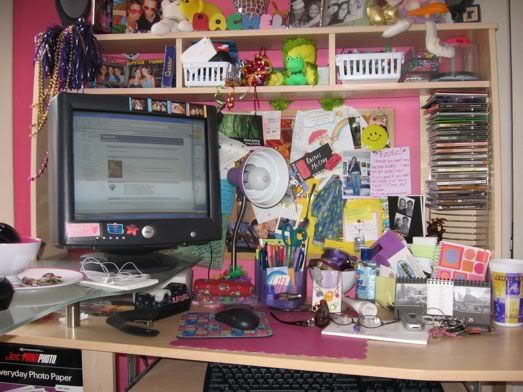 College Rachel's Desk circa August 2005....Clutter and Color Galore!
Also, let's take note of the old facebook on my screen...how old school.
Let me explain...
Remember back in college when AIM was where it was at and everyone compulsively checked buddy lists and made witty away message? Do you also remember how if someone on your buddy list was gone for more than 30 minutes, their name would appear light grey and show up in italics? And then you could hover your cursor over their name and you could actually see the number of minutes they were gone? Anyone else remember this???
I used to take pride in being gone for hours at a time, only to come home and beg my roommate to tell me how many hours it had been since I last touched my computer. Is that weird? I used to love leaving early in the day, having plans on campus all day long, only to return home at 8 or 9 at night. I lived for a jam packed planner. I loved for my days to have zero free time in them. I loved rushing across the quad for meetings or lunch dates or bible study. I used to be happy when my hours away were in the double digits. A 13 hour day was something to take pride in.
...those were the days. I was so young and able.
And now I am an old woman who longs to do nothing more but crash the minute my work day ends. Extra meetings or conferences or appointments totally screw me up these days. I just want to work my normal hours, then come home and put pajamas on and be with and the dogs and my husband. 21 year old college Rachel would be ashamed at the woman I've become.
But you know what? I've reached a point in life now where I think it's okay that I want to be at home. I'm not a hermit, I just work hard 9 hours (or more) a day, and if I want to just rest in my evenings, well then there's nothing wrong with that. A little bit of rest, some dog cuddling, some cooking, and maybe some wine are good for the soul. I get that now. I don't feel a need to be out all day and all night, only to overextend myself and feel stressed. And I like that. I am glad I've found a place where I'm content in feeling that way.
College Rachel may have been busy, but she certainly didn't understand the beauty of rest and a little peacefulness. Nothing like figuring out what makes you happy.