Life just can't slow down. Every day this week just seems to be jam packed. I wish I could say I'd have more of a break next week, but sadly, that doesn't seem to be the case. I'm starting to count down the days to my spring break. It cannot be here soon enough.
But enough of my complaining...I'm blessed to have a teaching job right now in this economy, and I shouldn't whine about all that the job entails.
Let's talk about food! Here are last week's meals:

My Meals:
Spicy and Cheesy Grits
with
Deep South Shrimp and Sausage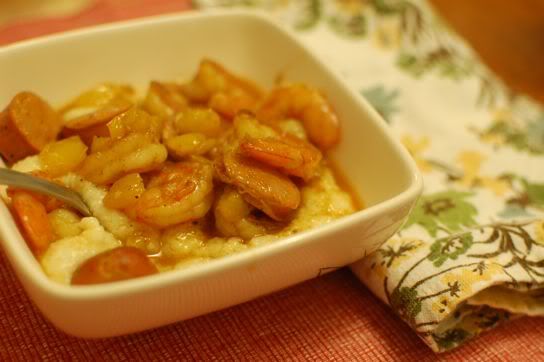 It was gone in no time...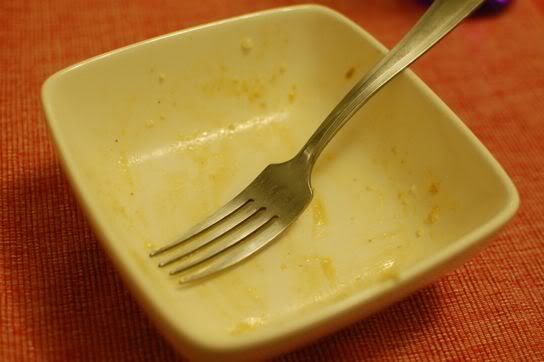 This is, hands down, my favorite Cooking Light recipe. It even beats out
Bacon Mac
. And y'all know I love that recipe.
We made the grits recipe again on Sunday morning for breakfast!
Isn't it crazy what a difference what natural light makes in my photos??
Chicken and Gnocchi Soup
This was really yummy! I used a pint of half and half (not a quart) and upped my chicken stock up to 4 cups. It was still plenty creamy. I did not use rotisserie chicken. Instead I baked some chicken for 40 minutes with light seasoning, then pulled it with a fork. It was simple and had plenty of flavor.
Baked Sweet Potatoes, Corn Filled Mini Muffins, and
Smothered Green Chile Pepper Chicken
This was mediocre. Nothing amazing. The chicken just didn't have enough flavor for me and the corn muffins were way too dry and salty. I like my corn bread to be a tad sweet.
J's Meals:
Pioneer Woman's Cajun Chicken Pasta
This is always a pleaser. J tried subbing heavy cream with plain yogurt...yeah, it didn't work out so well. I wouldn't try it again!
Pioneer Woman's Beef Stew with Beer and Paprika
What a solid beef stew. The broth was so tasty. We'll definitely be eating this again. It also made plenty so we were able to freeze some.