Last month I did
a little poll on the ol' blog about some household chores
. I am still in the process of testing out some of the answers I got, but I'd like to do a follow up post about all my questions that you all so helpfully answered.
One of my questions was about your jewelry. I asked...
How do you clean your jewelry/wedding rings? Do you do it at home or have it done professionally?

Overwhelmingly, you all responded saying you clean it yourself. I gathered from many answers that some of you get it cleaned professionally maybe once or twice a year, but overall, you all like to clean your jewelry yourself. I decided to test out one jewelry cleaning method that several of you shared, dish soap! A lot of you said you clean your rings with warm water and dish soap.
I filled one of my
prep bowls
with some warm water and put my rings in there...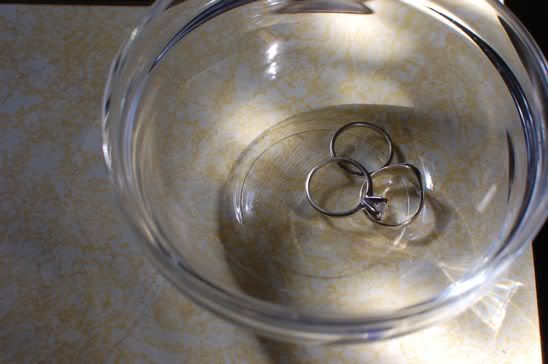 (my 3 everyday rings...engagement ring, wedding band, and college ring)
I put in a small drop of dish soap (yes I buy the store brand!)...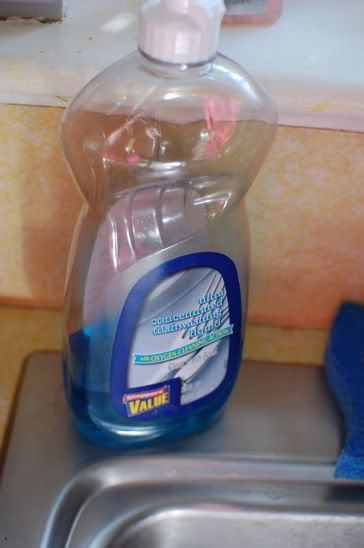 I let my rings soak in the warm water and soap mixture for about half an hour.
And then scrubbed with an old toothbrush. This guy is usually my humidifier cleaner, but turns out that he can multi-task...
And then I scrubbed, scrubbed, scrubbed. And you know what? After 3 minutes, I had 3 shiny rings. Good as new! I am sure a good trip to the jewelers for a steam and polish is nice, but this did the trick for an easy at home cleaning. Thanks for all of your advice!