As you'll notice, we didn't do a whole lot of cooking last week. One night I enjoyed a cheeseburger happy meal from McDonald's (sometimes that's just what ya need at the end of a long day), and if I remember correctly, I had Subway last Monday evening for dinner. Thursday our good friends made dinner for us where we had Cornish hens and rabé. Sadly, no pictures were taken of the meals.
Here are the meals I did manage to photograph...
My Meal:
I found this while flipping through last month's Everyday with Rachael Ray. This was one DELICIOUS soup. The flavors were fabulous. We topped ours with some of the pesto I made last summer (
pesto recipe
) and had stored in the freezer. What a fabulous choice. This soup will definitely be appearing on Menu Monday again.
J's Meals:
Baked Chorizo and Kidney Beans over Brown Rice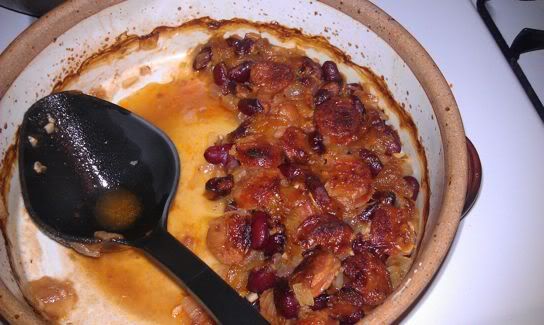 I couldn't wait to dig in. Oops! I've already written
an entire post about my love of this meal
. No need to say it again!
Pioneer Woman's Beef and Broccoli
(or sugar snap peas in our case because I don't like broccoli)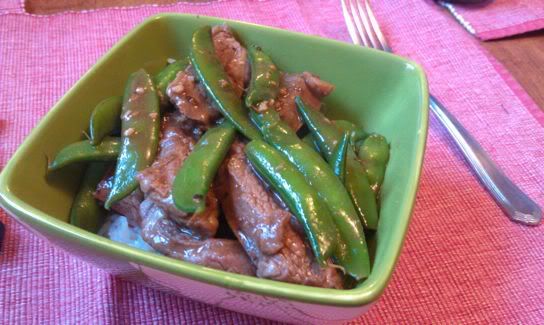 We make this a lot. Have you noticed? It's just that good.
And finally...
Saturday we decided to go out to dinner. Last month
Design Sponge
did a great city guide for our little city (Thanks to
Rachel
for sending it to me!). We had visited all but one of the restaurants on their list and we decided Saturday was the night to try it out. I'd definitely call it a win.
Razzo
has been added to our list of very loved Norfolk restaurants.
J had tuna mignon in a red wine reduction with spinach. I had a pasta with a red cream sauce, pork sausage, and lots of basil. It was divine. We also shared a cucumber, onion, and mozzarella salad. I can't wait to recreate that one at home this summer. It was the perfect summer salad.