This past Sunday, we were having one of those perfect late winter days. Virginia's weather is usually quite mild, but it's also known to be a little bit wacky. When we get a 65 degree afternoon and it's still February, nothing can get me down. We decided to take full advantage of it and go for a little day hike*.
*I use the word "hike" loosely. Everything is completely flat here. When you hike 5 miles, it feels like nothing since we have zero hills or elevation.
Anyhow...we did early church Sunday morning and were out at the park by 10:30 AM. Layla was anxious and ready to go!
Things started off rough because our trail map had us following a path that took us over a bridge. We kept walking and walking expecting to find this bridge, but we eventually learned that said bridge was gone. This meant a little bit of detouring through the woods, but everyone survived (and we found no ticks!).
We eventually made it to the river which was at the bottom of the park where I took a picture of this handsome bearded man. Yes, that's my husband with his new red beard. His wife has very mixed feelings on it.
Even though it was really only 65 degrees, Layla found the need to cool off in the river. Now she stinks like a river dog. I suppose someone should give her a bath...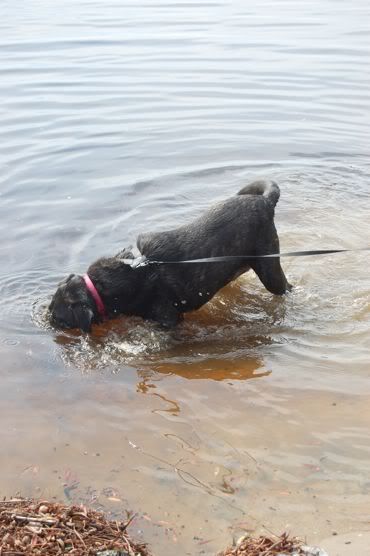 After a good swimming session, we found a trail back to the car, this trail was a tad more successful than our trail down to the river. There were still issues with that nonexistent bridge, but at least we had a path this time.