Over the past 2 weeks, I have watched a lot of movies. With spring break around, I had lots of free time on my hands. Here's what I watched...a pretty good mix of new and old.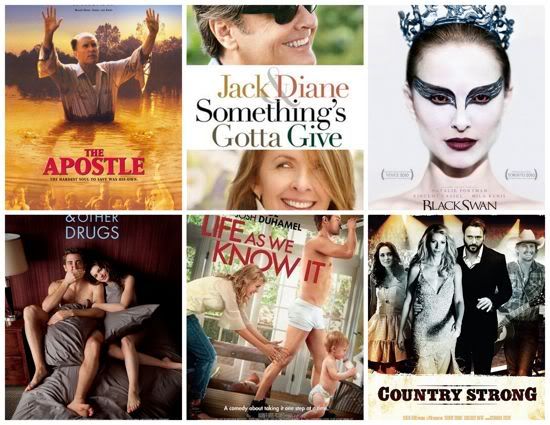 And my thoughts?
The Apostle
: Fantastic. Robert Duvall doesn't disappoint. It's kind of a crazy movie, but he really owns it. I'd recommend to anyone who loves Robert Duvall or enjoys movies with religious undertones.
Something's Gotta Give
: This was one of those movies that's been on my "to see" list for years, just never got around to it. I enjoyed it very much. A sweet romantic comedy. Although, I would have been fine without a naked Diane Keaton, but maybe that's just me. I'd recommend to anyone who likes a solid romantic comedy.
Black Swan
: Just as expected, it was a crazy 2 hours. I am still processing what happened. Loved Natalie. LOVED her. The movie was well done and twisted and all kinds of weird. Definitely different from my other movie choices. I'd recommend to anyone who needs to lose a few hours of sleep. This will keep you up thinking all night.
Love and Other Drugs
: Not at all what I expected. Anne Hathaway sure loves being naked. I'd recommend to those who enjoy watching two good looking people with mediocre chemistry.
Life as We Know It
: It was cute, but nothing special. Glad I rented it, but don't need to see again. I'd recommend to anyone who needs a mindless chick flick to preoccupy their time (because we all have those nights).
Country Strong
: I liked this a lot...up until the last 10 minutes. The story had me wrapped in, I liked the music, Gwyneth was beautiful, but then the end threw me for a
total
loop. I'd recommend to those who are Gwyneth fans. She does a fabulous job.
So there you have it!
Any thing you've watched recently I should add to my list?