As promised, here is my recipe for my Baked Ziti that I posted about on
Monday
. Not the healthiest, but it's quite tasty! I think I originally started making this back in college when I used a recipe on the back of a store brand pasta. Over the years I've tried several changes and variations, but this is the basic recipe.
Baked Ziti

Ingredients:
1lb of Cooked Ziti Pasta
Low Fat Ricotta Cheese (15 oz)
2 cups of Shredded Mozzarella Cheese
Tomato Sauce (24 oz)
1 egg, beaten
1lb of Italian Sausage, removed from casings
Pinch of Garlic Salt
Pinch of Dried Basil
Directions
:
Preheat oven to 400 degrees

Brown the sausage, set aside

Mixed cooked pasta in a bowl with sauce, egg, ricotta cheese, 1 cup of mozzarella, garlic salt, and dried basil
Mix in the sausage

Move to casserole dish and top with the remaining cup of mozzarella cheese
Cover with foil and bake for 35 minutes. After 35 minutes, uncover and bake for 5-10 more minutes or until cheese is brown and bubbly.
Remove from oven and enjoy!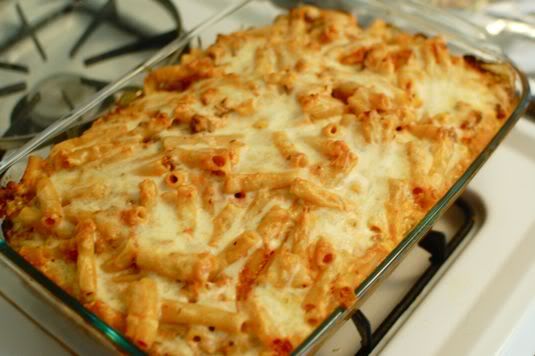 *Notes: I used this
Classico
sauce in mine...I love to make my own sauce, but sometimes this is so much easier!