This might be the last Menu Monday for awhile. Meals are going to be less exciting and more "easy" with J traveling back and forth between here in Charlotte for the new job. When we do cook great meals, I'll share, but things might be a little blah in the coming weeks.
Here's what was on this past week's menu....
My Meals:
Warm Asparagus, Gorgonzola, and Steak Salad
with Corn on the Cob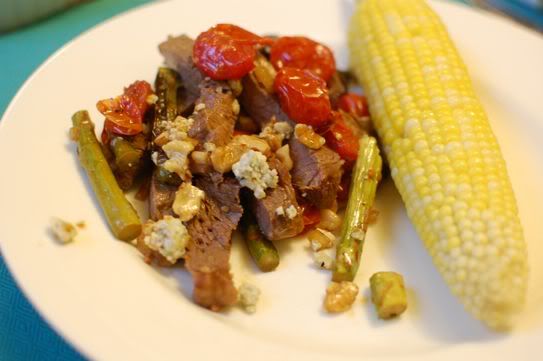 After seeing several posts on Kate's blog about this meal, I knew I had to make it. It looked way too perfect to not try out. And BOY OH BOY, was I right. This meal was perfect. I am a red meat eater through and through, and this steak salad did not disappoint.
I think our twitter chat about this meal says it all:
Yes. I did indeed want to make out with this meal. I have no shame in admitting that.
Chicken, Bean, and Blue Cheese Pasta Salad with Sun Dried Tomato Vinaigrette
Another win from Cooking Light. I'm telling y'all...this Cooking Light cookbook was worth every penny. I'm considering buying it for some wedding shower gifts. It's so wonderful! This pasta salad was light and fresh. It would be great to bring to a cookout.
And one small addition to my meals...
Restaurant Style Salsa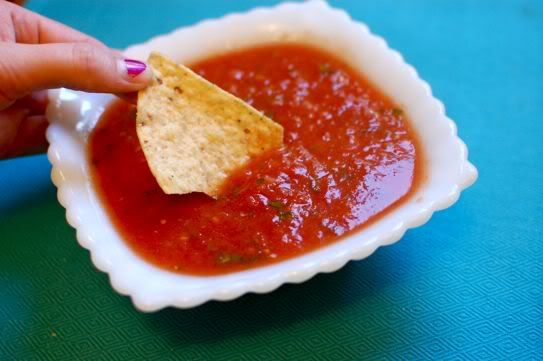 Friday night I was craving some Mexican Restaurant salsa but didn't feel like paying for the whole meal. Pioneer Woman to the rescue. This was just as good (if not better) than my local Mexican place. And best of all, you add as much cilantro as you'd like. Also, don't mind my chipped nail polish. It's how I roll.
J's Meals: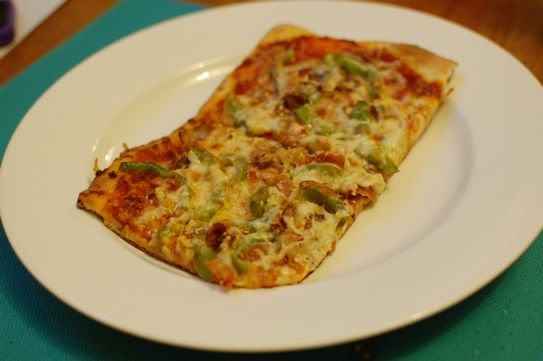 Have you noticed that we make this A LOT? It's just so easy, cheap, and yummy.
Lighter Spinach Lasagna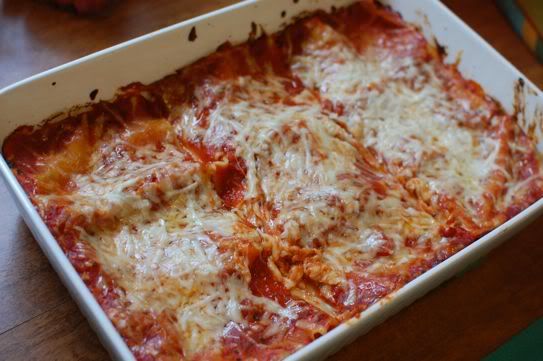 Very, very yummy. One small change: use fresh spinach instead of frozen. So, so, so much better. Lats time he did it with spinach and this time we used fresh. What a difference. This time it was perfect.