My very best friend and teaching partner at school is having a baby girl in July. We've laughed her whole pregnancy because all she has wanted to eat has been potatoes. There have been days where she's come into the lunch room with a baked potato and a side of tater tots. Mom and Dad haven't decided on a name for the baby yet, so you can only imagine all the names we've been calling this baby girl: Tater, Tater Tot, Mrs. Potato Head, and my personal favorite...Spud!
This past Friday we threw a surprise shower for my friend and it could not have been a more perfect night. As I'm sure you can tell from the pictures, we went with a potato theme. We had a baked potato bar and the most amazing cake. I was the lucky one who got to call and order it. The lady on the other end of the phone at the bakery definitely thought I was crazy!
We had one fabulous set up for the baked potato bar. One teacher brought the BEST topping that I'd never had before, but plan to make again for my potatoes. It was just sour cream and horseradish, but oh my goodness...it was DELICIOUS!
Our hostess, who also happens to be the world's greatest drink mixer, made Crack Babies (so appropriate for a shower, right?). Apparently they're a favorite drink of Kate Middleton...or so the internets claim. This drink was SO delicious. Pureed strawberries, champagne, vodka, and passion fruit juice. It was the perfect drink for summer.
Here's a link to the recipe
. I didn't get a picture of the pitcher, but you can see it in the glasses here...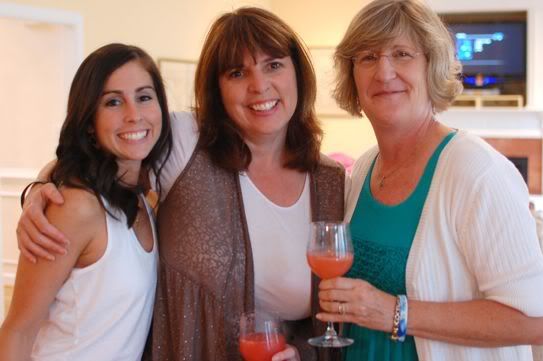 Seriously...make this drink this summer! It was
so so
good!
And finally, a picture of my fabulous, wonderful, I love them so stinking much 5th grade team.
I am so excited about Charlotte, but I am so sad to be leaving these 5 women. They are all AMAZING teachers who have taught me so much. And they help make my job very fun. I could go on and on. I'll save it for another post! It also makes me sad to know I won't be here when Baby Spud arrives. All the more reason to plan a trip back, I suppose!