Thanks to Pinterest,
my arts and crafts wish list
is about a mile long. I have so many little projects I want to work on. Some just for fun, some are super functional for the home. I really should delay finding a new job so I can just paint and play with glitter all day. Oh right. I teach elementary school and get to do that already! (I kid....my job is so much more than some crafts!) I'm so excited to share my craftiness with you guys that I even made a button in Photo Shop Elements. 1 -because buttons are always fun and pretty and 2 - because I have too much time and I need to teach myself how to better use PSE.
So fun! Right? Maybe there will be more arts and crafts posts and I can use this button again!
Like I was saying...Pinterest has got my creative juices flowing and I have a craft to share with you all today!
Here was my "pinspiration"
I liked the idea of having some functional jars in our kitchen to help us organize some everyday items, like coffee, flour, tea...you get the idea. During our big trip to Ikea a few weeks ago, we picked up
there jars
.
We got a few sizes, big and little, the most expensive one being $4.99. Not bad! After a trip to Home Depot for some chalk board paint and a foam brush, I was set (we already had painter's tape).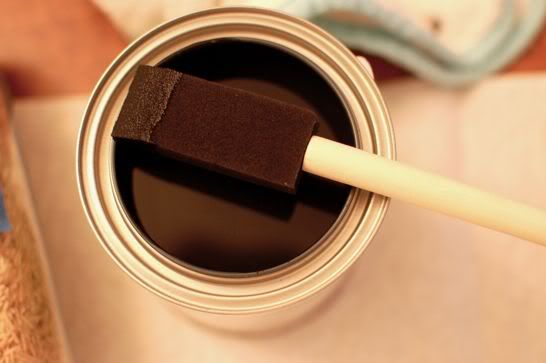 Using a ruler and some paper to help me make nice right angles, I made rectangle on my jars with the painter's tape...
Why I put our ingredients in the jar before taking on this craft, is beyond me. I guess I was just so excited I wasn't thinking straight. ANYHOW....once the rectangle looked just right, I painted the the rectangle with my chalkboard paint.
A few of them had some "drippage" when I pulled off my tape, but it was nothing that a razor blade couldn't handle. I just carefully picked off the paint that wasn't supposed to be on the jar.
Once all my jars were done and dry, it was time to label them with chalk! And I'll have you know I looked really hard for my chalk. With the new use of dry erase boards in classrooms everywhere, chalk is kind of hard to come by these days. Even in the back to school aisles. After trips to two different Targets, I finally found myself a box chalk so I could label my jars. And once I had my jars labeled, I was tickled with the outcome. How cute are these?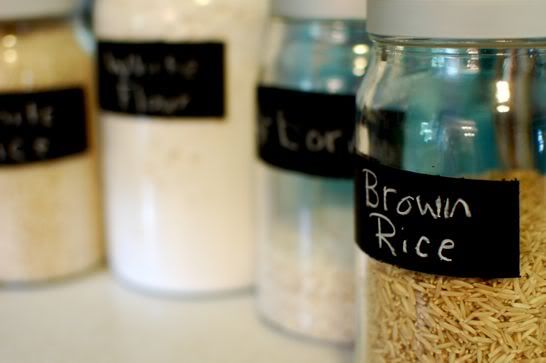 So there you have it! My first "pinspired" craft! I hope there are many more to come. Any Charlotte girls up for a monthly craft club? It's always more fun with friends (and maybe some wine, too!).