This past weekend was our first full weekend in Charlotte. It was also the first weekend in a long time that J didn't have to make a 6 hour drive twice in one weekend. He was probably more excited about that than me. So how did we spend our first weekend together in our new city? Well...
Saturday morning we got up early and visited Ikea! This is the first time I've lived in a city with Ikea (plus about 50 other stores we didn't have in Norfolk, I am so pumped about the shopping here!).
After spending about 2+ hours wandering around the maze in this store, we headed home to put all of our new purchases to use. Most of our finds were little things for the house. I'll share about a few in the future. Here's one we've already put to good use. We got a
2x2 expedit shelf
in white to use as a TV stand. We liked the idea of using this shelf for a tv stand, but then realized our DVD player wouldn't fit anywhere on the shelf. That's when we found this
$6.99 shelf
you see on the wall that would work perfect as a home to our dvd player. We're quite pleased with our cheap "entertainment" center.
When we returned from Ikea, there was a big box on my front porch that had this inside...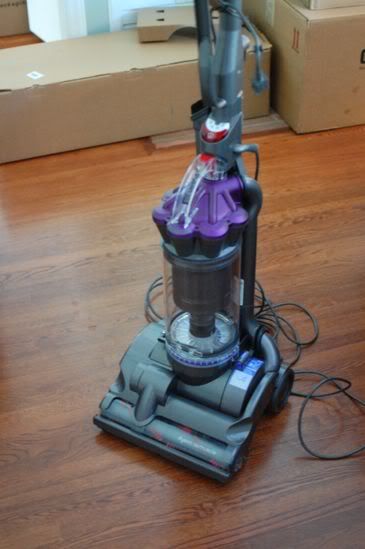 My Dyson Animal!! I have been wanting one of these for years (pretty much since the day I brought Layla home back in 2007). With 2 big dogs who shed, I've known that I needed a better vacuum to assist me in my daily battle to fight dog hair. This past spring our upper grade teachers had to do mandatory tutoring after school. I was not crazy about having to stay after for 4+ hours every week, but they did pay us. I decided to put all that "extra" money to my vacuum. It made the tedious afternoons seem a little more bearable! And the best part, J found me a super deal on woot.com which is how I got it for a cheap (for a Dyson) price. It's like my new baby...I love it! (I can't believe I just wrote a whole paragraph about a vacuum...my apologies!)
On the 4th, my friend from home who lives in Charlotte, Sarah, invited us to a baseball game and tailgate with a bunch of her friends. We were happy to have an invitation to go out for the holiday and to meet some people. There was a big storm which delayed the game by almost 2 hours, but we still had a lot of fun!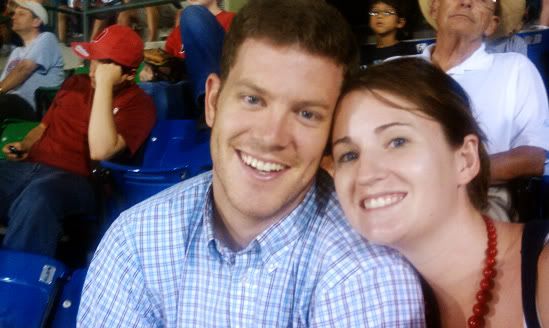 After the game we went back to the parking lot and sat outside and watched the fireworks. It was a great show, but my favorite part was the fact that you could tune in to a local AM station and they had a "soundtrack" to accompany the fireworks show. It was a lot of "freedom music," as I like to call it. Lots of Toby Keith and other country songs about freedom and red, white, and blue. Rather cheesy, but so perfect for a 4th fireworks celebration!