Last year on our second anniversary, I thought it would be fun to start taking a picture each year of us on our anniversary. On our first year anniversary before I had this grand idea, we were in Princeton, NJ and Saratoga Springs, NY, and this was the only picture I got of the two of us on that day. Not that great, but at least I got one!
My idea for yearly pictures came last year, so with the help of our tripod, we took a bunch on our front steps. This one was my favorite...
And then yesterday to celebrate year three, we invited the pups to join us in our yearly photo in the backyard. Took a few tries, but we eventually got a good one!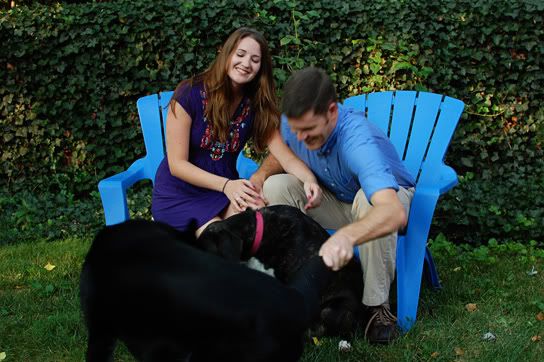 My husband is a good sport for letting me use my self timer to get a "family" shot! Speaking of my wonderful husband, he treated me to a delicious dinner last night. Recipe courtesy of of our favorite, The Pioneer Woman. He made us
Short Ribs in Tomato Sauce
, served over Linguine. HOLY SMOKES. This meal was insanely good. The beef practically melted away in your mouth it was so tender.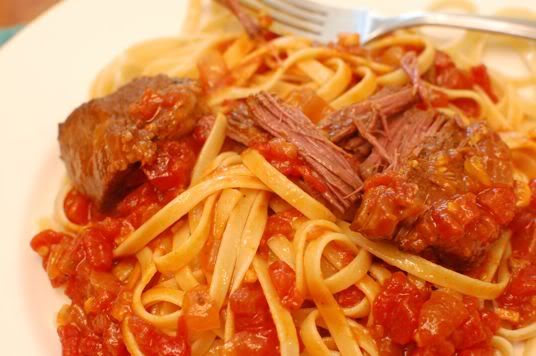 According to him, this meal wasn't too difficult. Definitely a crowd pleaser, though!
Before dinner he surprised me with the new Nook!
He is the owner of a Nook Color, but I hadn't joined the world of e-readers! Now I feel like I'm a part of the 21st century! I can't wait to start purchasing books for it. I love that it's so small and light. Also love that I can even check out some books from our library on the Nook! And can I mention how he also managed to tie this in with the traditional 3rd year gift of leather? He got me a red, leather cover to go with it. Love it!