Happy 4th of July! We have had a wonderful, long holiday weekend, with more plans for a baseball game + some tailgating for tonight. Life is good!
And in even better news, our kitchen is set up and we are back to cooking again! After 2 months of only kind of cooking, we are back to full on
meal planning
and trying new recipes. It felt so nice to make a real grocery store trip this past week. Is that normal? Do most people get this excited to make up a long shopping list and then fill up a grocery cart? Probably not....
On to our meals! We'll start with
my meals:
We ate these sandwiches on our bike tour in
Nice last summer
(exactly a year ago tomorrow), and since then, we have talked about making them about a dozen times. During our cooking "break" when I took up a strong interest in
Pinterest
, I decided to look for a recipe for this sandwich and I happily found several of them. The one I chose didn't include sardines, which tend to be a popular ingredient in this sandwich. I know a lot of foodies like their sardines, but I wasn't sure if I was ready to take that plunge. So anyhow, this sandwich is basically a fancy pants version of a tuna sandwich. You just include a lot of extra ingredients plus a delicious lemony dressing. Once you've mixed all the salad ingredients together, you pile it all onto the bread....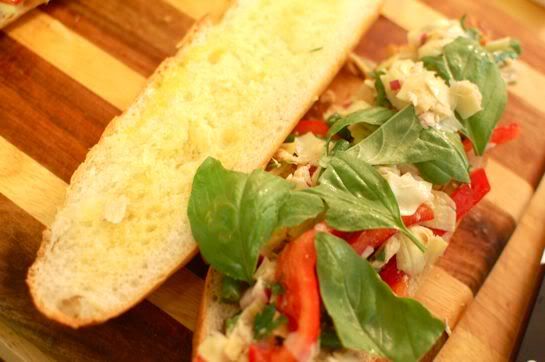 And then you wrap it up tight and lay something heavy on. I used our heavy cast iron grill press, but any heavy pan or pot would work.
You let it sit like this for a few hours because you want the oil and lemon dressing to really soak into the bread. I made my sandwiches in the morning and left them in the fridge under the press for about 9 hours. By the time we were ready to eat, the bread was perfectly oily.
And voila! Perfect French sandwich! For a little more history and info on this famous sandwich, you can find that
here on wikipedia
.
I made a simple cucumber, tomato, and red onion salad as a side. Just toss the 3 veggies with some red wine vinegar and olive oil. Perfect summer side.
#2 Turkey and Hatch Quiche + Roasted Asparagus
Major props to
Kate
for sharing this recipe on her blog. It was my first quiche and a major success. I will be the first to admit, I'm always a little unsure about using ground turkey in meals. Sometimes it works great, but then other times it taste way too much like turkey to me. It worked out so well in this meal. All the seasonings and flavors blended in well and covered up the turkey flavor. (Am I the only one who doesn't like that taste? Do I even make sense or are most you reading and thinking I'm crazy?...that's probably the case!)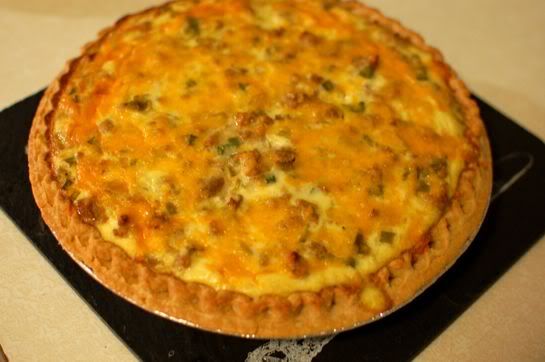 For my roasted asparagus, I actually used our toaster oven. Since the oven was being used for the quiche, the toaster oven was a great help. I covered my pan with foil, coated it in some olive oil, and put out my asparagus.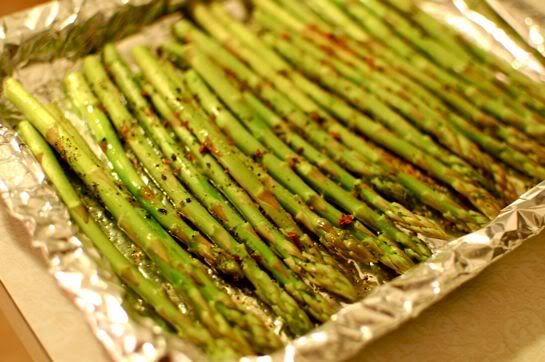 I drizzled them with a little more oil, then topped them with some salt and pepper + some of this seasoning I found when organizing our spices (that's a whole 'nother post).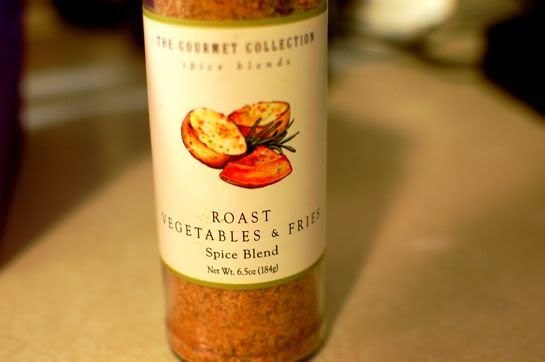 I put them in the toaster oven at 400 for about 10 minutes, then put in on the broiler setting for about 5-6 minutes. By the time they came out, they were perfect. YUM!
And J's meal...
(he just had one)
#3 PW's Beef with Peppers served over Rice Noodles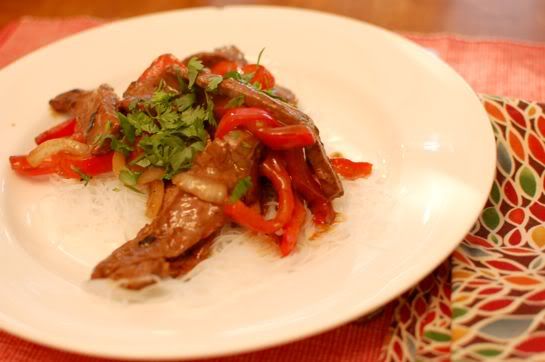 Another hit for Pioneer Woman (and J!). I think we both agreed that we'd be happy to eat this again, and probably with a salad next time.