With all of our cooking that we do, we have accumulated quite the spice collection. We have a nice standing spice holder that we got for our wedding, but it only holds about 20 spices, and there are so many more in our collection. In our old home we kept them on a shelf directly above the stove...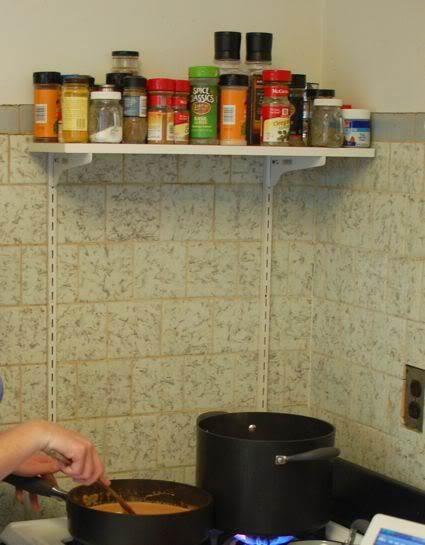 This system worked because a) the shelf was already there b) it was a tiny kitchen and we made do with the space we had. I didn't LOVE this system, mainly because it was hard to see the spices. I often had to dig around to find what I needed. Kind of a pain.
Now that we're in the new house, when setting up the kitchen I was determined to find a system that works a little bit better. This kitchen is slightly bigger and it has tons of storage options for us. In the kitchen we have a
L
azy Susan
in one of the cabinets, and I loved the idea of keeping my spices there, but I realized they'd be hard to identify when looking at them from above. This was nothing a little masking tape and a Sharpie couldn't solve!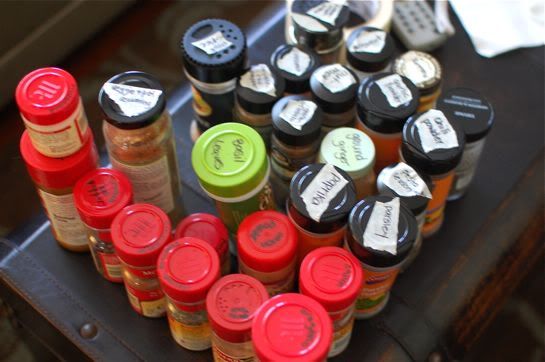 I spent an afternoon on the couch watching TV and labeling all my spices. When finished I put them on the top shelf of the Lazy Susan. Aren't they so easy to identify now? This is what I see when I open my cabinet and spin the LS...
Easy peasy and now I can find my spices in a flash! I am sure I could have made it look nicer by printing cute labels, but really, I didn't care too much about that. Just wanted to able to quickly find them. And while we're looking at my kitchen, I want to share this funny drawer. It's in the corner or the cabinets. I've never seen one like it before. Kind of funny!