This was my first weekend after the start of the school year, and as predicted, it was quite wonderful. The first few days of school are so exhausting. Part of it is the newness and getting back into the groove after being lazy all summer, and then it really is exhausting working with 26 new students. Friday night, we went out for Mexican, watched some
Parks and Rec
(our new favorite find on Netflix Instant), and I was falling asleep on the couch by about 9:30pm. Back to my normal self!
Since I spent most of last week updating for Teacher Week (which was so fun, by the way!), I feel like I haven't done a normal update in awhile. This post is going to be a little random, so hang in there...
A few weeks ago I won a thirty-one giveaway on
Jenna's blog
, and I got a new lunchbox in the mail. Right in time for the new school year! My former lunchbox had seen better days, so this was one giveaway I was very happy to win. I love it!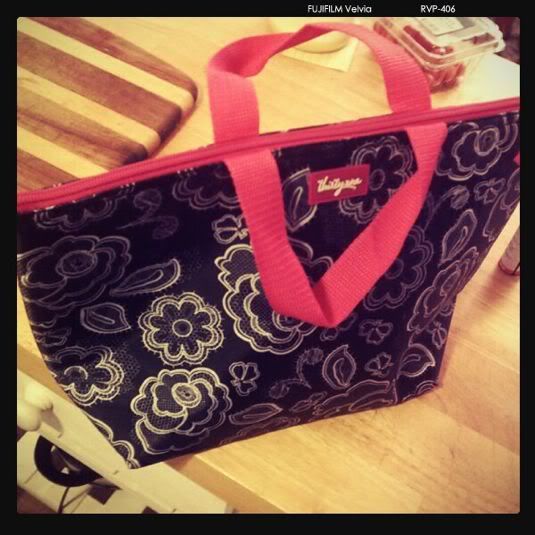 Here's my first day of school picture (you know, because I'm a fourth grader and all!). You can also see my new hairdo! I chopped off five inches earlier this week. I needed a good trim, and decided to do a little more than trim. It felt good to get some weight off. It was getting so long, which I loved, but a little too unmanageable for my taste. You can also see me sporting the new lunchbox here...seriously, I look just like my students.
I'm still loving my
Erin Condren
teacher planner. It has made lesson planning much more fun. I don't mind it as much when I'm using it!
And finally, I think my year is off to a pretty good start...in the first week I had a student bring my cookies (they were cookie sandwiches filled with cookie dough...SO yummy!) and this adorable Lilly Pulitzer reusable bag. How sweet is that?? I love all the colors on it.
In some much sadder new from the week, J's grandmother passed away on Friday. While very sad, we're happy that she had a full and blessed life. We'll be visiting with family and attending her funeral later this week. Very sad, but it will be nice to see family and remember her life. I love this picture my Father in Law sent us in an email the other day of both of J's grandparents.
So there you have it. Hope everyone has a great week...especially now that we have this hurricane past us on the East Coast!