I know I've been a little MIA this past week, we can blame that on my return to work. I've had orientation the past three days, and tomorrow our official work week begins. It's perfect timing, because today my
Erin Condren Teacher Planner
arrived in the mail...and boy oh boy...I am excited! I am linking up with
Meredith's blog
to share my new planner!
I definitely had a lot of trouble getting my planner. Like many others, my order was lost and I had to replace the order. Once I replaced my order, it ended up shipping much later than expected. After getting in touch with EC and expressing that I was really hoping to have this before my work week, they promised to overnight it to me (free of charge) so I'd have it for the first day. They were true to their word and now I'm ready for all those back to school meetings.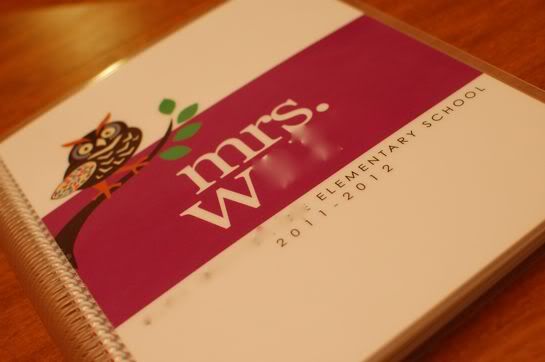 (excuse the poor quality photos! I'm just so excited I had to share, even if the lighting is awful at this time in the evening!)
Many of the blogs I have seen linked up about the planners have been about the Life Planner. If you're a teacher, this is the planner for you. I'm already planning to buy another next year. The people at EC clearly spoke and listened to teachers before designing it. It's perfect.
This is the inside cover. I love all the pretty colors. Through out the whole thing there are lots of great quotes about teaching and education.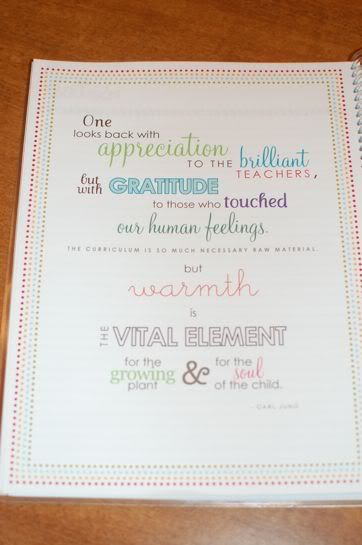 I love that on the important dates section it includes things like birthdays of some favorite children's authors like Marc Brown, Beverly Cleary, and Steven Kellogg. It's a fun little touch!
In the front you have some useful pages for things like sub info (however, I doubt I'd leave this for a sub...), birthdays, seating charts, absent logs, and a great checklist...they thought of everything! Most of these have 5-10 pages/copies in here, not just one.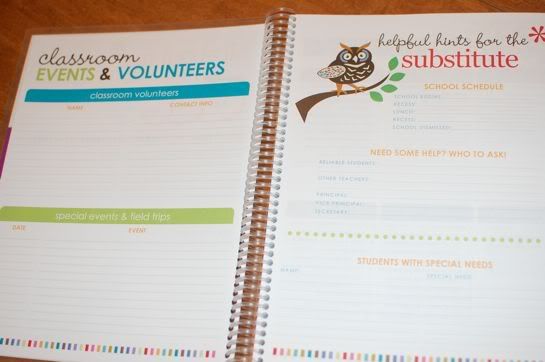 After this is the basic calendar. One side allows you to fill in the physical calender for the month, the other side is a place for notes and lists.
And then we hit the BEST part, the actual planner. It's going to help organize me so much this year, I already know it. I will still write my plans on the computer (materials, objectives, standards, essential questions...all the fun stuff) and put them in a plans binder, but this will be my outline to go by for the week for everything else. I'll briefly write out my plans on here + any other extra stuff going on in the day (IEP meetings, assemblies, conferences).
It also comes with tons of stickers, where, once again, you can totally tell teacher's helped make this. Here are some of the stickers it came with: IEP, Holiday, benchmark, testing, progress reports due, report cards due, field trip....it has everything!!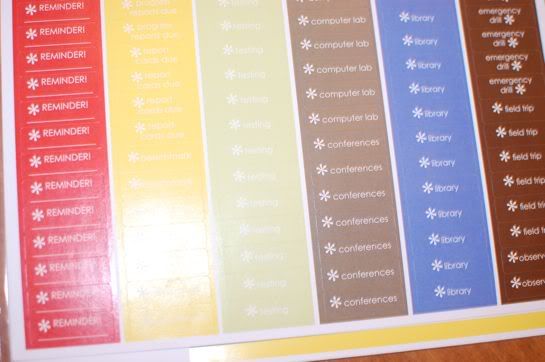 And last but not least, in the back there is a pocket with all kinds of fun stickers and labels...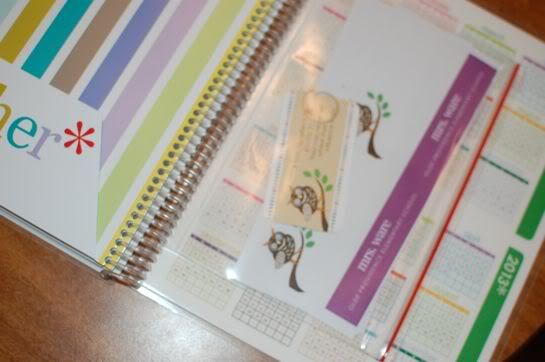 There are also some cards in there to give to my coworkers (whom I'm sure will be asking about my awesome planner when they see it!) to get $10 off on their order. Nice thinking!
I also want to point out that EC sent me two coupons for myself. One to save $25 for being so patient on my order and the other is for $20 because I'm an educator. I am officially in love with company. Earlier this wee, I'll admit it, I was upset that my planner hadn't shipped and know one had gotten in touch with me, but I'm very happy to report that they stepped up their customer service and I will now be returning and passing their name on.
Off to bed for my big first day tomorrow at school to meet the whole staff. Wish me luck!