Day 3 of
Teacher Week
! Today's theme: Where It All Goes Down Wednesday...in other words, my favorite part of Teacher Week...CLASSROOM TOURS!
My new room has been a challenge, to say the least. Last week I filled trash can after trash can with JUNK from the previous teacher. And when I say junk, I really mean junk. 20 tuna cans, plastic lids from a restaurant takeout boxes, old bottles of cold medicine, drawers full of candy wrappers...it was bad. Very bad. But after many hours of purging and cleaning, I was able to unpack some of my own boxes and make the room my own.
If you're ready, we'll begin the tour now!
Before you come in, you'll see this in the hall! It's driving me crazy those 2 pieces on the left side, but when your roster changes at the last minute, that's what happens I suppose!

Here's my door. I love the storage drawers that are just to the left of the door in this picture. I've never had a piece of furniture like this and I'm loving it. It's perfect for posters and construction paper. The top drawer is full of all sorts of knick knacks.


This is a close up of my jobs poster. I've used it all 4 years, so it's on it's 5th year. It's held up well! Feel free to share some of your class jobs below. I'm always looking for new jobs to add for my kids!

This is the right side of the room. You can see some of the desks and my computers in the background.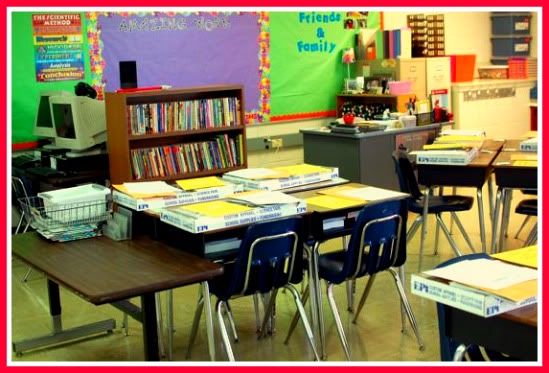 Teacher "stuff!" This is how the last teacher had it set up above the AC unit in the classroom. I like that it's out of the way.

At my last school we were all required to have a "Friend and Family" board and I decided to bring that with me. On here the kids can all bring in a picture of them and their family/friends. It helps make everyone feel welcome and like they're a part of the group. It's also fun to let the kids share about their photo the first day or two.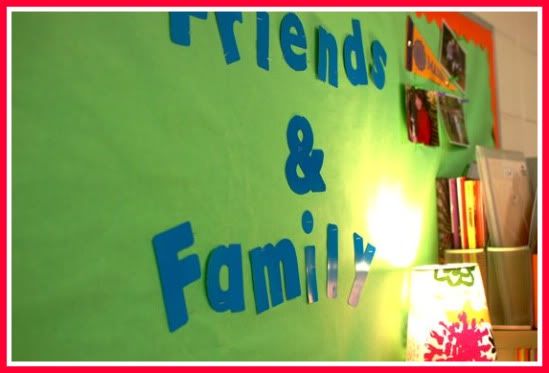 Here's my math board. It will eventually be my math word wall. As we work our way through the first unit, we'll be adding our terms to the wall.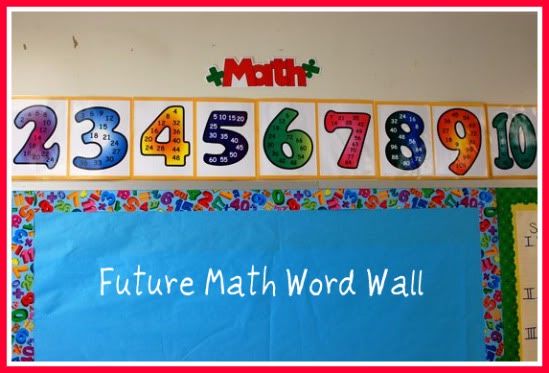 And right beneath the future word wall...
This is just a small organization tip for upper grades...at our open house, most the students brought in their supplies. I had bins and tubs all over the room so the kids could put their supplies away themselves. It gave them a job to do while I got to talk to parents, and it makes my life a lot easier to let them sort it!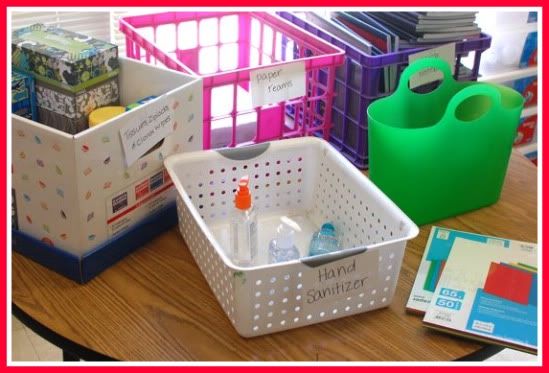 My new partner and I are doing a positive spin on the typical "red, yellow, green" cards. We have a pocket for each child that starts the week with no cards. As the week progresses, they have the opportunity to add cards to their pocket (for instance, a pink card is for showing caring or kindness to a classmate). At the end of the week, there are rewards for those who earned the most cards. We're hoping this will encourage positive behavior among the class.
SmartBoard! My love!
My desk and little corner of the room...
From the other side...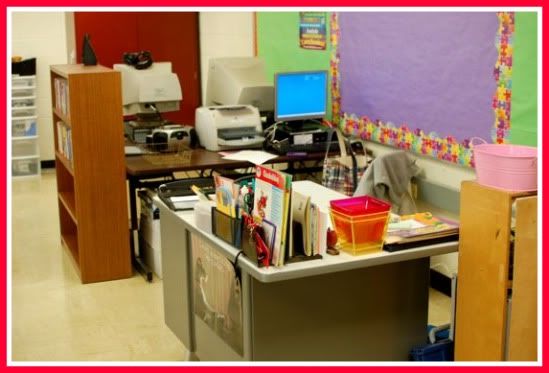 This is on top of the book shelf back by my desk. My loved ones! Also love my pretty, new lamp from Ikea that's back there. I like having lamps in my classroom and turning off those fluorescent lights from time to time.
And then under neath that shelf you find this...lots of important items down here that I use regularly. Trying my best to stay organized this year!
And that's it!! I still have a few little things to work on today before the kids start TOMORROW! I cannot wait. I met them yesterday at Open House, and I'm really looking forward to this year.
If you have any questions about items or products, or just general set up questions, please feel free to leave them in a comment. I'll do my best to respond.
Thanks for touring my room!