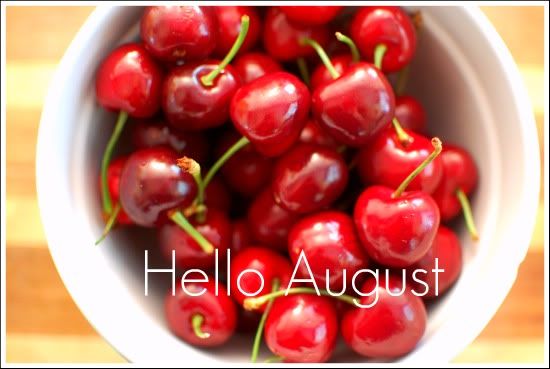 Big things are happening this month in my life.
Not only am I enjoying fresh cherries, as seen above, but I'm preparing for my first day of school at my
NEW
job.
That's right. I am a North Carolina teacher now. After a lot of resumes, and a lot of cover letters, a lot of wasted money*, and
a lot
of frustration, I have a job here. I'll be teaching 4th grade, and I think I'll just be teaching math and science.
So, here we are in August. I have about 2 weeks of summer let, and I plan to soak 'em up before jumping in head first at a new job.
This month we've got another weekend planned to visit our friends' cabin in Lexington, and I plan to get a few more projects done around the house before school starts. I just finished one this morning that I can't wait to share!
Happy August!
*I thought I had to take a different Praxis II test for my NC teaching license than I had to take in VA. I signed up for the tests, and when it was all said and done, the test price came out to $300. Upon further investigation, turns out I didn't need to the test. That's a good thing because I remember nothing about Piaget and Erickson and I probably wouldn't have passed. Bad news is I only got $150 of the money back. Obtaining this job is turning out to be a costly affair. I have to pay out of pocket for a physical and TB test this week out of pocket because my old insurance doesn't cover me here, but my new insurance doesn't kick in till September. Seriously...this whole finding a job thing can be expensive!