Five on Friday!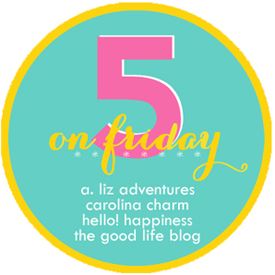 In an effort to jot down a few things about our life right now, I'm going to record five things about our life over the past few weeks...
1. I love having a two year old. I am loving this stage of motherhood so much. Having a little person who I can actually talk and converse with is so much fun. We certainly have our hard days, but overall, 25 months is pretty darn awesome.
I think J would agree!
2. My sister broke her leg (pretty badly) last week and I made a very quick and last minute trip to see her in NYC and help take care of her until my mom could get up there to help her. I might post more, but seeing how my blogging has been going lately, that likely won't happen. #slackblogger
3. We went to the Riverbanks Zoo in Columbia last weekend. While M had a ball and really enjoyed the animals, we ended up having to come home a little earlier than we had planned after I got hit with an awful migraine part way through the morning. I have never experienced anything like that and I hope it doesn't happen again. I told J at one point that I felt like I had something trying to crush the bridge in my nose. It was just terrible. Hopefully next time we go to the zoo, it'll be a little less traumatic for me...but with all that said, I'm glad we went because M really did have a great time!
Pre Migraine...
4. M's new phrase is "Ummmmm" and it is my favorite. Every answer to yes or no questions is "Ummm yes" or "Ummm no" and it cracks us up!
5. Making salt dough ornaments with some sweet friends last week! Today we're off on another fun Christmas adventure with them!
Okay, that's enough playing catch up for one week! Hope you have a great weekend!